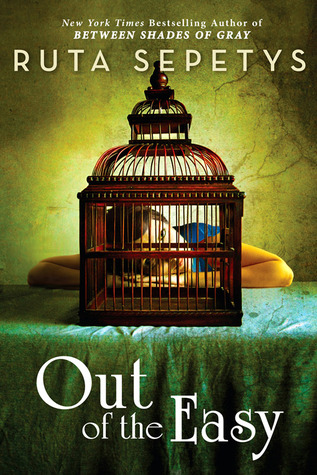 It's 1950, and as the French Quarter of New Orleans simmers with secrets, seventeen-year-old Josie Moraine is silently stirring a pot of her own. Known among locals as the daughter of a brothel prostitute, Josie wants more out of life than the Big Easy has to offer.
She devises a plan to get out, but a mysterious death in the Quarter leaves Josie tangled in an investigation that will challenge her allegiance to her mother, her conscience, and Willie Woodley, the brusque madam on Conti Street. Josie is caught between the dream of an elite college and a clandestine underworld. New Orleans lures her in her quest for truth, dangling temptation at every turn, and escalating to the ultimate test.
Author – Kiera.
It was my choice of book this month, and I have had my eye on this book for a while. At first I was a bit hesitant to pick it, as there are mixed opinions on Historical Fiction throughout our group. I had even decided on a different book. After a few firm words from Laura I decided that I was going with this one, and that was that! I'm glad I did, because part of the reason we all wanted to be part of a book club was to discover things we may not have found on our own.
It is a very character driven story, and that was fine by me as each and every character stirred up some kind of emotion. Josie Moraine is our main protagonist, and she is clever, independent, street smart and bookish. She hasn't had the easiest childhood being the daughter of a prostitute, but because of this she is determined to make a better life for herself.  I loved the relationship between Jo and Willie. You could tell that no matter how frosty she may seem she really loves Jo, and there is something very heart warming about their interactions. Willie was probably my favourite character in the book, she gave her respect to everyone and demanded respect from everyone in return. Her story really was one of making the best out of what you have, and she passed that lesson on to Jo. Along with the loveable characters there are a good few to hate in this book too.
I liked the murder mystery aspect of the story. It was a good old fashion 'who done it' type of affair, and 1950's New Orleans was the perfect setting for it! I found this book to be so atmospheric it was almost like I wasn't just reading it, but I was there watching everything happen, and that is because of Ruta Sepetys' amazing writing.
Author – Hazel
Historical fiction was one of the few genres that just didn't appeal to me. I think that because of my poor history GCSE class at secondary school, whenever someone uttered the words 'Historical Fiction', I immediately thought of war stories, most predominantly author World War I and II. That class burned away any type of interest or passion I could have had or developed and ever since then I've steered clear of anything historical. That being said I absolutely loved this book and it has re-ignited some interest in the genre. This story gave me lots of feels. Sadness, frustration, anger, love! It had some really lovely heartwarming moments that made me feel all warm and smiley and it had some laugh out loud moments; Willie was very funny. It had some moments where I felt so frustrated and angry, not at the story but at some of the characters – I wanted to beat poor Josie's mother with a stick and chop off John Lockwell's dirty hands!
The story was beautifully written and paced; there was a mystery and a romance – two of my favourite things in a novel. The characters were all well developed, whether they were prominent in the story or just background ones. My favourites were Willie – she had a sharp tongue and she was tough but she really loved and cared for Josie; Cokie – he sort of adopted Josie as a big brother type, he took care of her and was just a genuinely nice guy; and of course there's Jesse. I'm always drawn to the bad boy or the loveable rogue, and Jessie was that guy, stunningly handsome, charismatic and good with his hands, what more could you ask for 😉
Author – Antonia
I could not put this book down. From start to finish I was really intrigued and drawn in. Each character had lots to bring to the story. Some of them extremely loveable whilst others not so. I really enjoyed watching Josie fight for something she never thought possible and the determination she had. I also loved the bond between Josie and Willie. Willie very much cared for Josie and took her under her wing when her useless mother couldn't. Cokie was very loyal and caring also – I think he was my favourite character. Then you had John Lockwell, Louise (Josie's mother) and Cincinnati. I disliked these for different reasons.
I found the book was beautifully written and easy to read. As I'm new to the reading scene I'm open to reading different genres and I enjoyed this one. Good pick Kiera 🙂
Author – Laura
I'd like to take a teeny bit of credit for this choice. Mostly because it was brilliant. (If it had been awful I'd have denied all knowledge).
Some books have a really distinct 'feel', and this one was warm, sultry and almost comforting. There was so much love, in various forms, that reading it felt like snuggling in your favourite blanket. It was lovely to read a straightforward, standalone story with a clear plot (although the mystery keeps you guessing all the way through).
New Orleans is a vibrant city and the difference between the Quarter and Uptown was really well written. Its like I was there; the smells, the heat, the … all of it. The characters were all well developed, and it was easy to see why Josie felt the way she did about her awful mother. The relationships between Josie and the girls who work for Willie were really touching at times, but my favourite character was Cokie. He is so constant and true, and he loves Josie unconditionally. I loved his unfailing hope and honesty.
Above all this book is about achieving your dreams no matter what your start in life, and I thought it was wonderful.
Author – Yasmin
I very much enjoyed reading, Out of the Easy. Right at the start I was pulled in and became interested in Josie's story.
She doesn't have the best start in life and with her mother being a selfish and uncaring prostitute, Josie grows up around all sorts of people. Criminals, kleptomaniacs, caring bookshop owners and a tough madam of a brothel. Josie doesn't let her sad situation stop her from trying to make a better life for herself though and fights for what she wants. I loved her strong personality.
All the trouble starts after a man she meets while working at the bookstore is found dead later that night. And with Josie's mum back with her old criminal lover tensions and suspicions run high.
The book is very well written and flows nicely. There are plenty of characters to love and have a laugh with, others you'll hate, and even a sweet pinch of romance. Trust me this story won't disappoint.